2009-06-16T21:58:28 / jeremie chassaing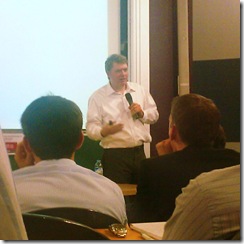 The ParisJug organized a DDD event yesterday in  Paris presented by Eric Evans, the author of Domain  Driven Design himself.
He'd come in France ten years ago, but never made a presentation about Domain Driven Design here yet.
Thanks to Antonio and Nicolas and the others and who organized this presentation in 4 days. You can find a summary of the talk in French here.
Putting the model to work
It was the title of the talk. I'll not make a full report since it was mainly what's in the book for those who had not grasped the concepts of DDD yet.
I'll talk about important topics of the content in following posts.
Diner with Eric Evans and Jug guys
After the presentation, we moved to a restaurant with Eric Evans, the organizers and other attendees. I had the chance to be at the same table as Eric, so I had the opportunity to talk with him about a lot of things.
He's not at all the Pattern Guru kind. Very careful to let you understand he's not found a solution to your problems, that you'll have to work, but that his experience and analysis can help to grasp things a bit more clearly. He's constantly working hard on several project to get more experience and set his knowledge and experimentation against different contexts.
I'll also talk about part of our discussion in following posts.